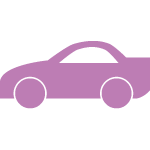 ---
When my brother and I were growing up, we didn't really get along. We had very different outlooks, even at such a young age. I took great care of my possessions, while he did not. Being the older brother, I would try to teach him about treating his toys gently so they wouldn't break. But as I stated, we were (and continue to be) very different.

I had a Hot Wheels racecar that I loved dearly. I had others but this one was very special to me. I kept it in a separate place from all my other toys and play with it very carefully. One day, my brother asked me if he could play with it for a while. Knowing how he would treat his own toys led me to decide not to let him touch my precious little car, naturally. Then, as brothers will do, he complained to our mother about that, and of course she forced me to hand the car over to him. He then proceeded to smash the car into a wall and it was broken beyond repair.

That experience taught me a lot about the nature of our relationship as brothers and how we would never really be able to consolidate our differing personalities into a bond of a lasting kind. You can tell a lot about a person by how they treat their possessions.
---
---